Creating a spatial experience at a trade show or conference is one thing; making an immersive branding experience in a challenging outdoor environment is another. At Dragonfli we specialize in taking environmental branding to the next level, whether that's the alpine of the Canadian Rockies or the hot summer streets of Miami. As a branding project's environment becomes more challenging, our team is frequently brought in to find a solution: We have over 20 years of experience creating unique and captivating branding moments for large-scale events in extreme conditions.
Environmental branding creates a cohesive, engaging, landscape for the consumer. It's design mixed with marketing and communication. In an office this might include the decor, installations, and furnishings that reflect the look and feel of the company. At a conference, the color design is consistent in wayfinding, table settings, and giveaways. Environmental branding can also include display walls, street banners, and 3D signage throughout a space. 
For Dragonfli, environmental branding tends to look a bit different. Our work often takes place outdoors, usually in large areas, and not uncommonly in harsh conditions. We bring the same tenets of environmental branding that one would use in a more traditional space, and we take that to the next level for events with industry leaders like Toyota, Redbull and REI. During the design phase, the team makes sure that the event looks polished for the in-person audience as well as making sure photos and video from the event have the same level of impact. Each event has its own distinct look and feel, and it's always a challenge to bring that through every element on site. Read on for more about some of our favorite branding events:
Toyota U.S. Grand Prix
The U.S. Grand Prix of skiing is a multi-stop ski and snowboarding event taking place across several ski resorts. We were challenged with creating a branded finishing structure for the athletes to end their runs. While most fabrics can survive in a conference center, we had to ensure the arch fabric could withstand the harsh weather as well as moving from location to location. This arch provided important real estate for branding as well as the backdrop for photos of the event. 
In addition to this large element, we designed and built the height and wind meters for the halfpipe events. Similarly, we had to make sure the materials could withstand the wear and tear of winter weather. These height and wind meters provided key branding as well as important safety information to athletes and coaches, to ensure they had of-the-moment wind direction and speed data just by looking at the course.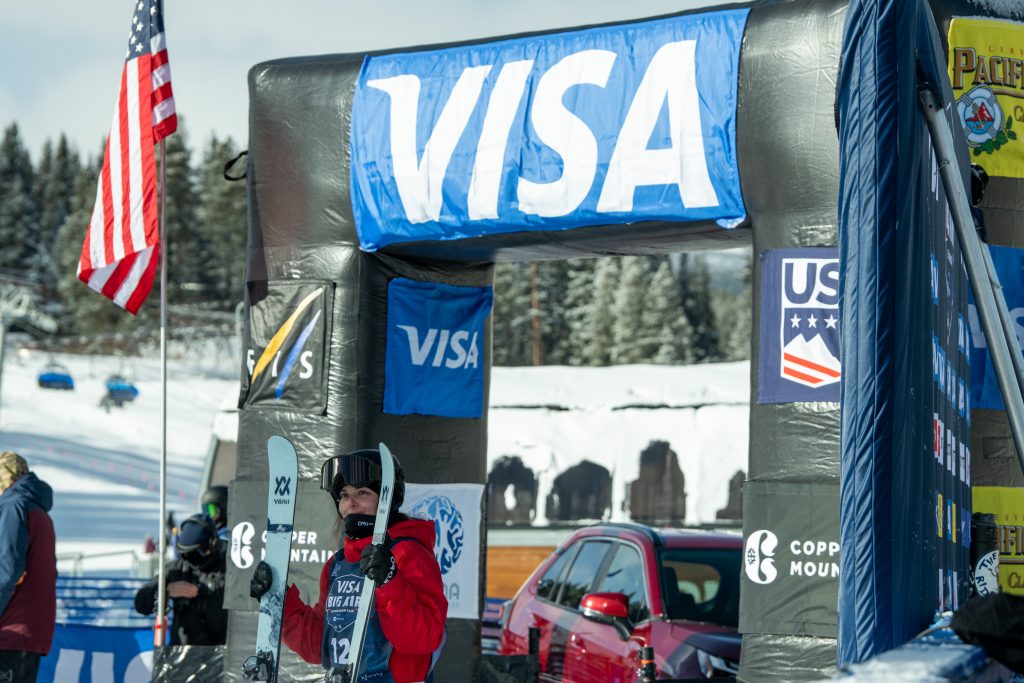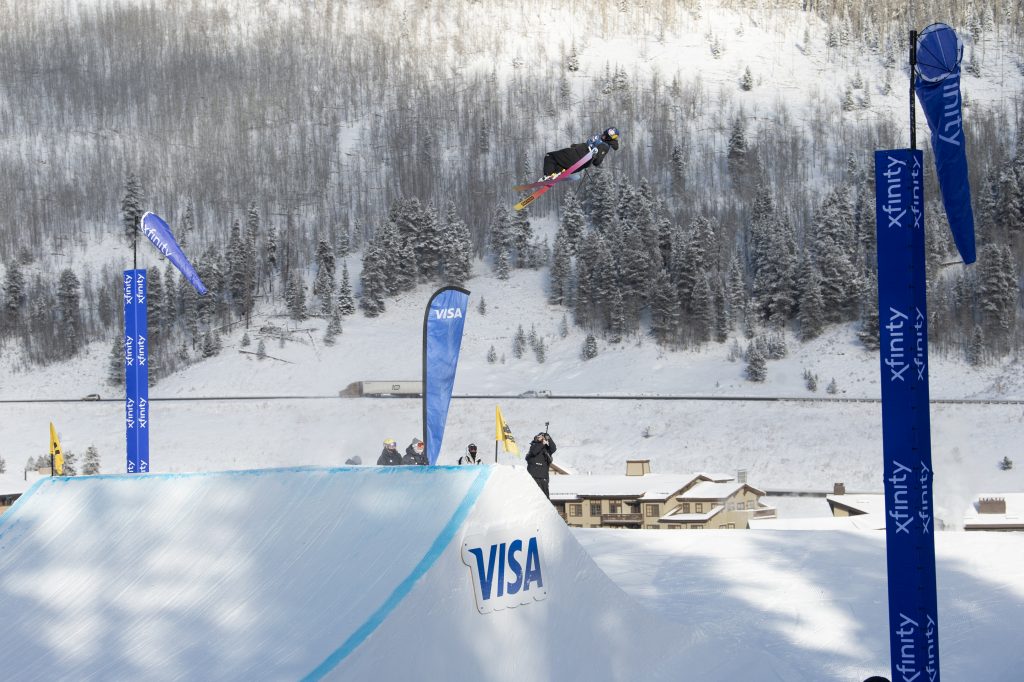 Red Bull Air Race
The Indianapolis Motor Speedway has hosted many marquee events, but none quite like Red Bull Air Race. For this event, many attendees were unfamiliar with the event itself, but familiar with the venue. We focused on wayfinding elements and information around the pilots as well as the event particulars for that stop of the Air Race series. For such a large-scale event, we designed numerous sponsor branding elements, but made sure each had a specific purpose. There were no sponsor placements for the sake of it, but rather, each was implemented as part of a wayfinding banner or along the race gates themselves. 
Red Bull Rampage
Hosting some of the world's best male freeriders, Red Bull Rampage was a unique event in Utah's southern desert. With a venue that has to be fully rebuilt for the event, spectators needed extensive wayfinding to get around the venue safely and efficiently. Each map or sign was a touch point for the spectator, and a chance for us to carry through the overall look of the event, with the goal of all elements echoing this unique landscape. On-course branding elements had to read well both in person and in photographs and on the livestream. We also took rider POV videos into account: most riders use a GoPro style camera, so we built branding elements that would work well on those short videos released on social media in the days leading up to the event.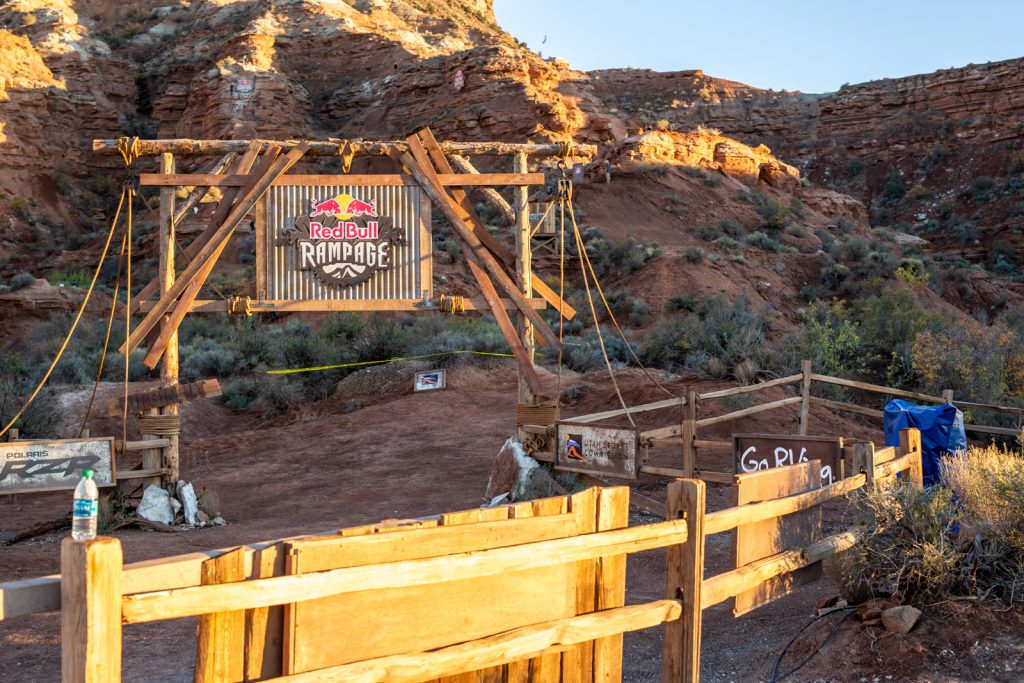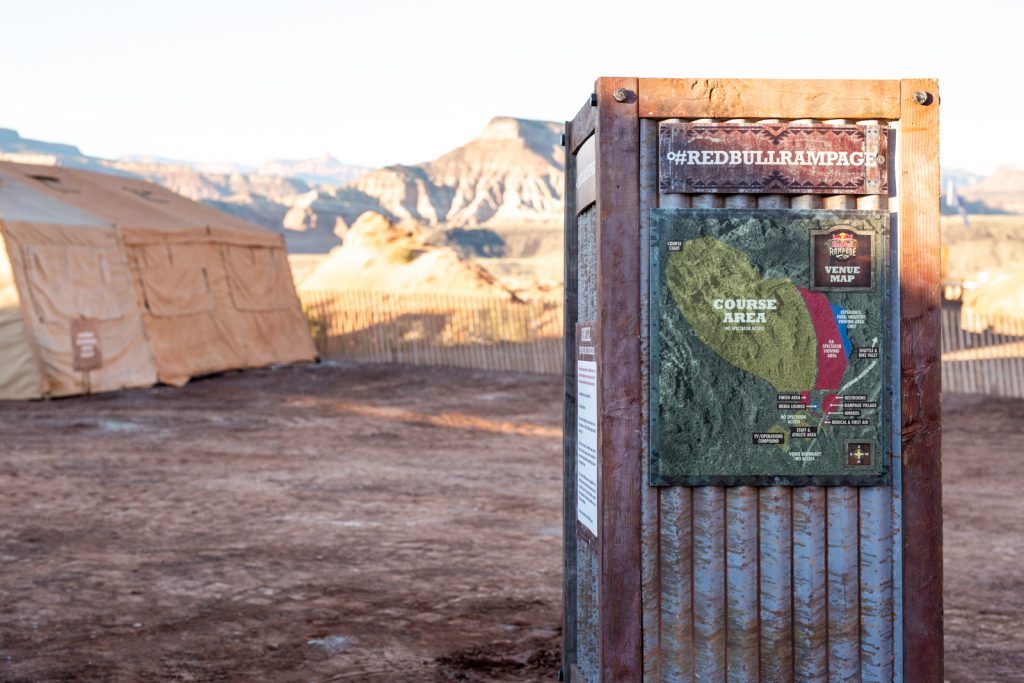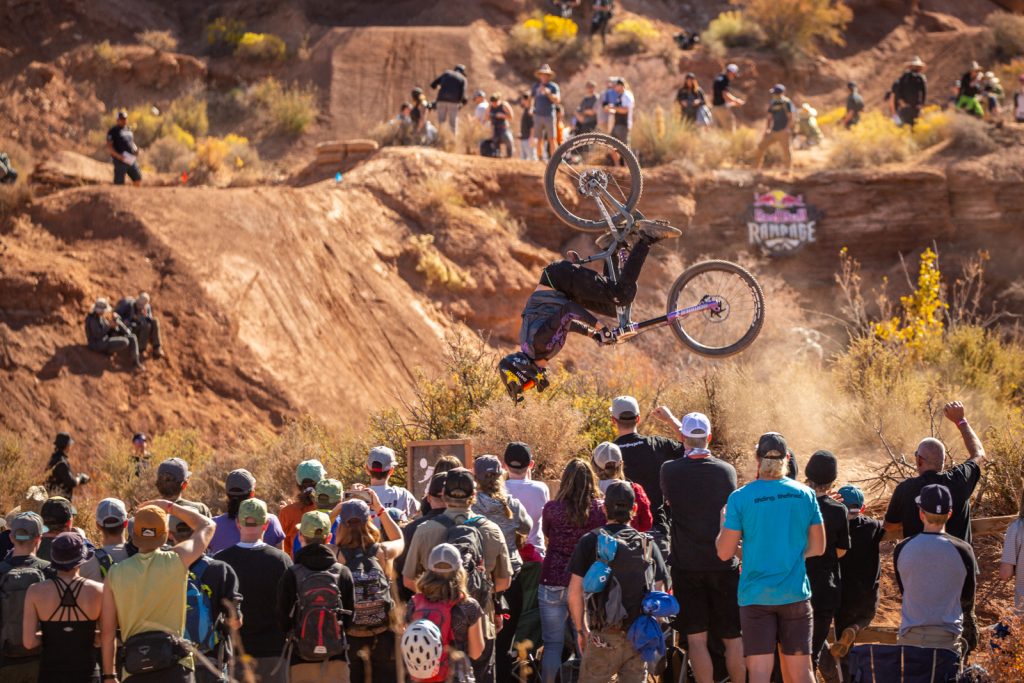 Woodward Peace Park Championships
Taking place at Mount Bachelor in Oregon and the next year at Snowbird in Utah, the Woodward Peace Park Championships provided a unique opportunity to bring branding elements through a purpose-built terrain park for some of the world's best snowboarders. In Oregon, we were tasked with designing a cohesive look that echoed the feel of Bend and Mount Bachelor's extensive logging history. With the diversity of placement options, from jumps and banners to smaller pieces through the venue, we could arrange branding elements to best suit each sponsor and the needs of the space. Through it all, we kept the photographer's perspective in mind so that all the elements would be just as impactful in photo and video assets from the weekend.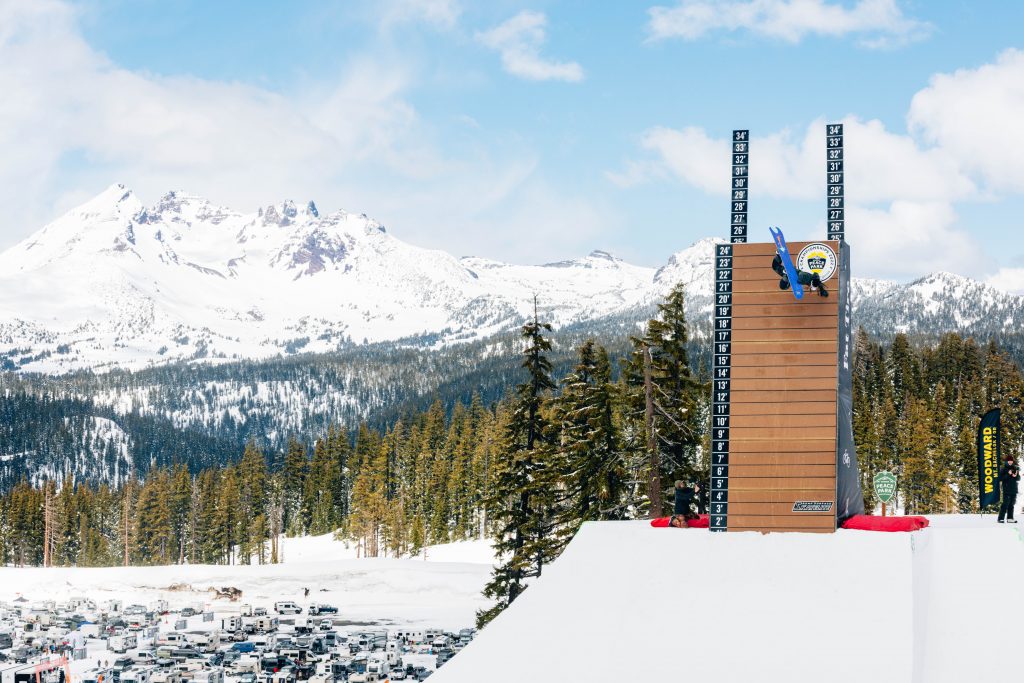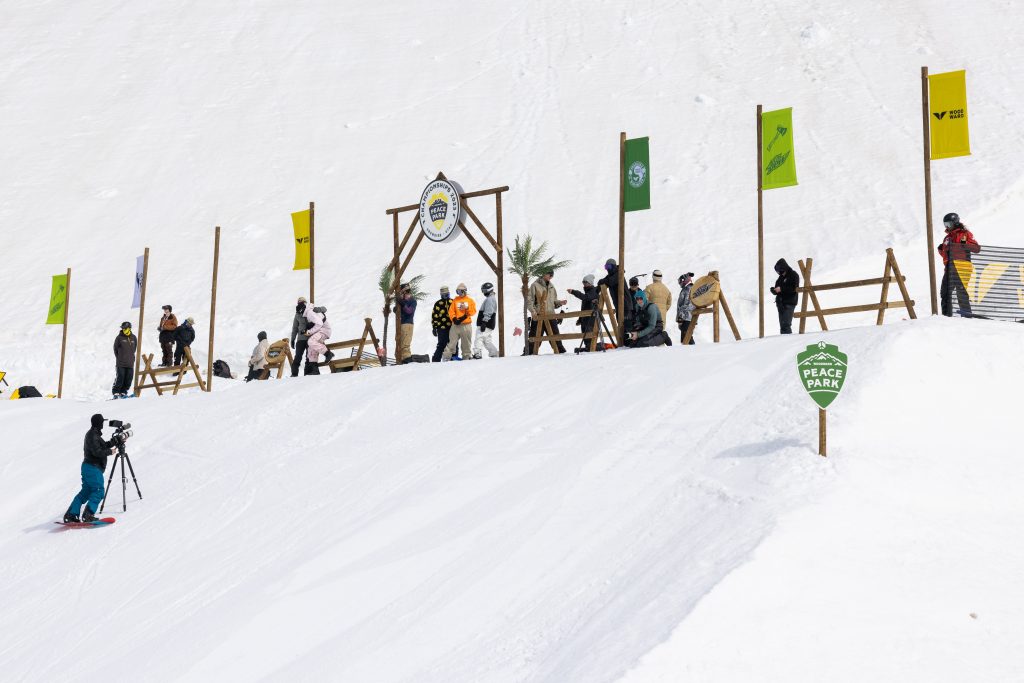 REI Outessa
REI's Outessa Retreat at Tahoe provided attendees with a chance to learn and explore in a female-centered space. Transforming a ski resort into an immersive experience was no small feat. Each element of the retreat had to carry through themes of exploration and joy, all while making sure folks knew where they were headed for the next session. We designed and installed wayfinding and directional-based signage. With some sessions taking place after dark, we made sure these signs used reflective hits so that headlamps would illuminate them appropriately. At the main village, we designed numerous fabric elements from the wall of a tent at check-in, which immediately cued attendees to the overall look of the event. We also installed light pole banners, hanging signs, and archways throughout, all of which served to highlight sponsor branding as well as create a cohesive look.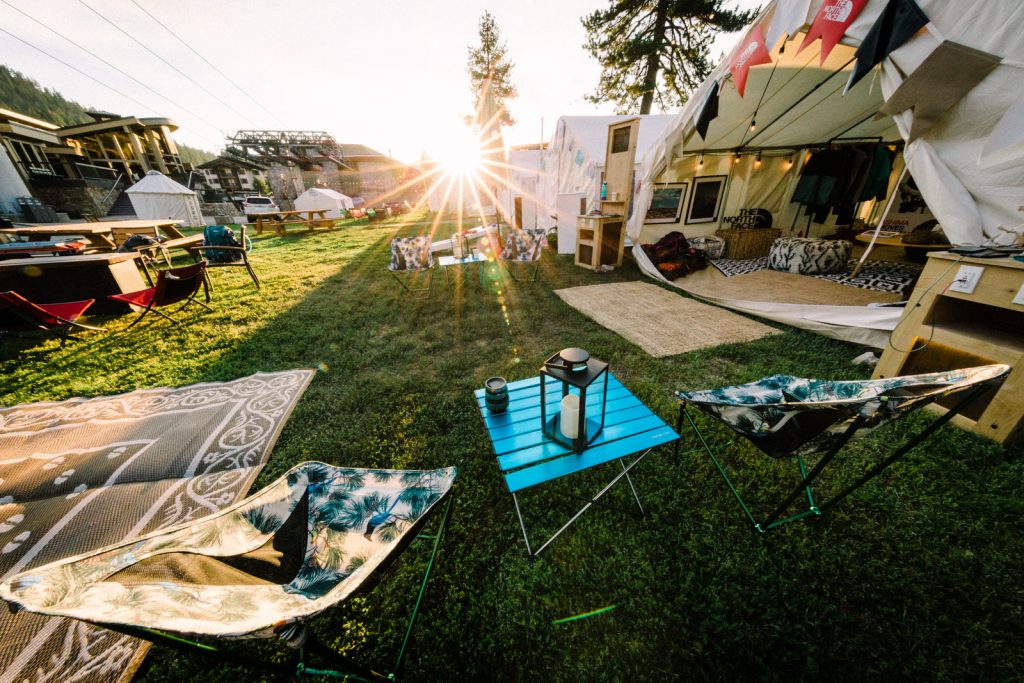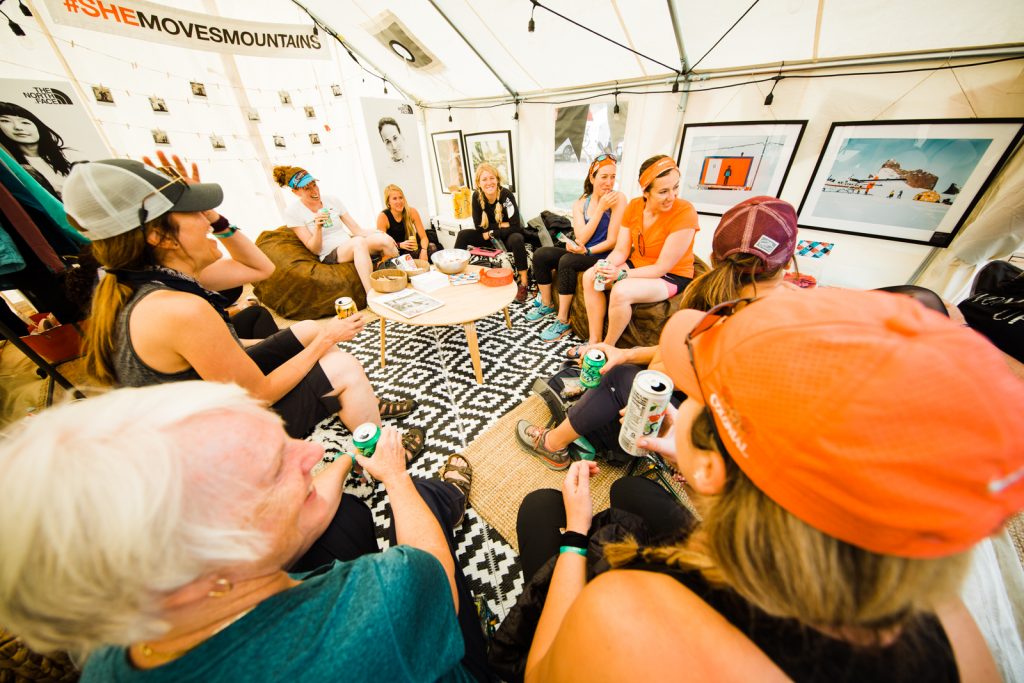 At Dragonfli, detailed environmental branding is a key component in almost all of our projects. So next time you're considering the best way to display your brand in a unique space, know that it takes a different set of tools, materials, skills and considerations to pull off events like these. With some foresight, creativity, and research, you can bring branding elements from your design file to life for a memorable event and branded experience.