Much like this year's snowfall in Utah, the Dragonfli team doesn't stop. We had a bustling fall, filled with all manner of projects from Toyota activations to (one of) the world's longest livestreams with Pit Viper. We covered a lot of ground across the US, from ski and snowboard competitions to broadcasting for the National Lacrosse League. Our thanks as always to the project partners that bring these events to life.
Read on for more about all the exciting projects from the end of 2022 with Dragonfli.
Toyota Sports Festival at LA Auto Show & LA Live
Toyota Sports Festival brings Olympic and Paralympic sports clinics to people of all ages, with both self-directed and guided opportunities. For the indoor portion of the event, we managed the production of a sports venue within Toyota's footprint at the LA Auto Show. 11 unique sports stations allowed ample opportunities for attendees to try their hand at everything from curling and skiing to wheelchair basketball and triathlon. With so many sports to choose from, we saw over 15,000 participants over the course of the ten-day auto show.

For the outdoor portion of the Toyota Sports Festival at LA Live, we managed operations for the activation over Thanksgiving weekend on Chick Hearn Court. Similar to the indoor footprint at the adjoining LA Auto Show, we had a sports complex for attendees to try different Olympic and Paralympic sports, with nine additional clinics, activations and signings from athletes. The space at LA Live included a purpose-built skatepark area and basketball court. We also made use of the LA Kings Holiday Ice Rink for the figure skating portion of the Sports Festival.

In addition to skateboarding and figure skating, Team Toyota Athletes signed autographs and answered questions during Q&A sessions. And one of the highlights of the weekend, Toyota partnered with the Challenged Athletes Foundation to deliver grants to four adaptive athletes to continue pursuing their dreams in sport.

Looking ahead, the Toyota Sports Fest prepares for its next stop at the Chicago Auto Show in February.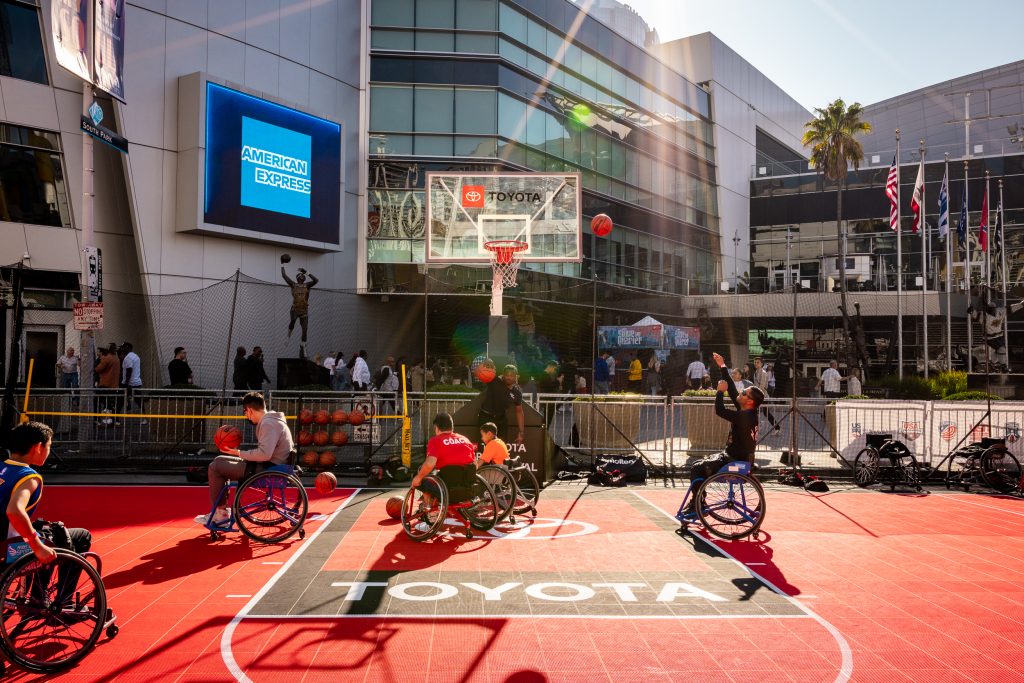 Photo: Sean Ryan
Toyota Fill The Truck Food Drive
The annual Toyota Fill The Truck Food Drive partners Utah Toyota Dealers, iHeart Media and Smith's grocery stores across Utah to collect over 15,000 pounds of food each year. We led the activation with staff on site to collect donations at the over 30 stops throughout the campaign.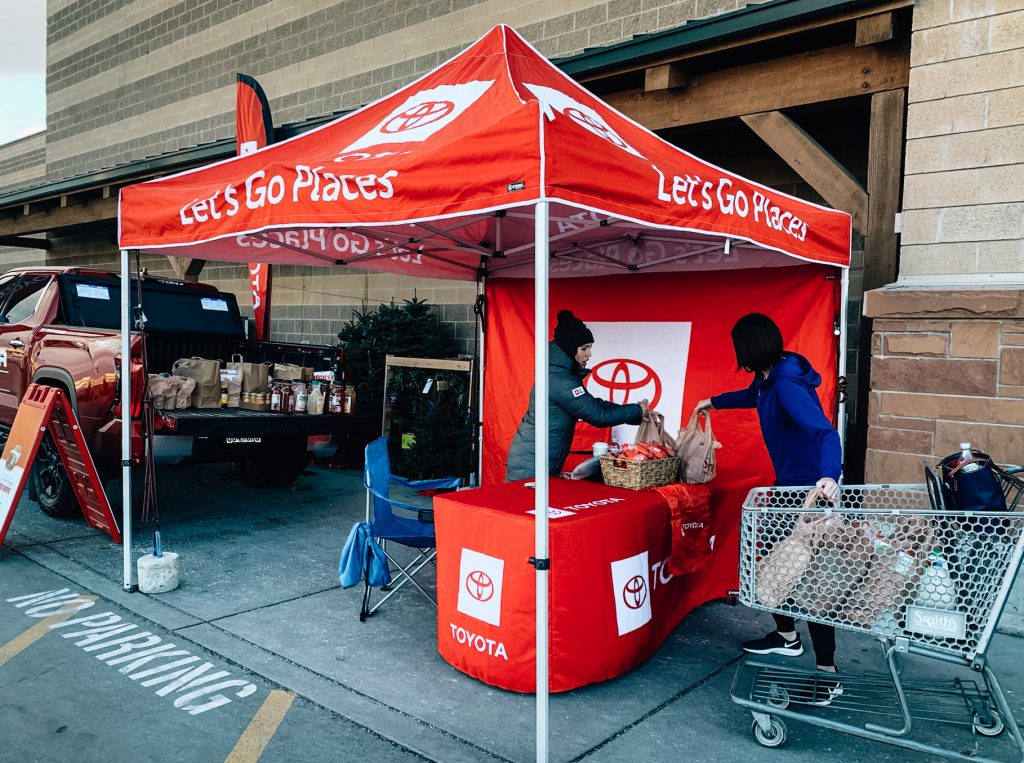 USSA Grand Prix – Copper Mountain
For our work with the Toyota US Grand Prix and Visa Big Air Presented by Toyota at Copper Mountain, we built and installed several key pieces of event infrastructure. The halfpipe competition featured height meters we designed, built and installed, which provided information to athletes, coaches and judges, as well as a branding moment for Xfinity. Along the Visa Big Air course, we installed our wind meters, with attached wind socks, which gave athletes and coaches critical information about wind speed and direction for a successful run.
Our finishing structures housed the event announcers, DJ, and members of the production team. These structures are not only built to withstand the harsh winter weather, but also made to be portable from warehouse to event and back again–including transportation by truck, snow cat or snowmobile. Copper Mountain was the first of the season, and will be followed by another event at Mammoth Mountain later in February.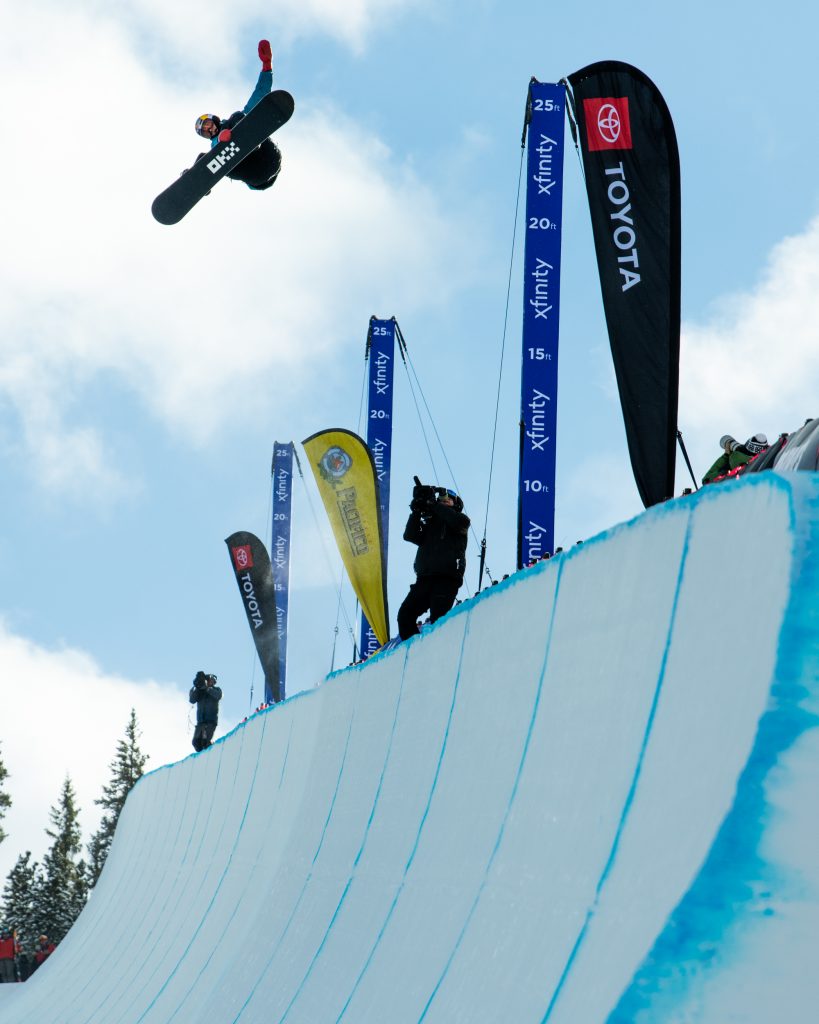 Pit Viper 69 Hour For Profit Telethon Livestream
Somewhere between fever dream and five star rodeo, Pit Viper's 69-Hour For Profit Telethon had a bit of everything, and we were there for all of it with video production and technical direction, as well as encoding and delivering the livestream.
The broadcast combined 80 pre-recorded segments with an additional 30 hours of live content, everything from Pit Viper co-founder Chuck Mumford painting frames, how to build Glen Plake's famous mohawk, to a wrestling match for the ages. While we work on some complex projects, this one certainly had the most surprises (and the brightest color scheme).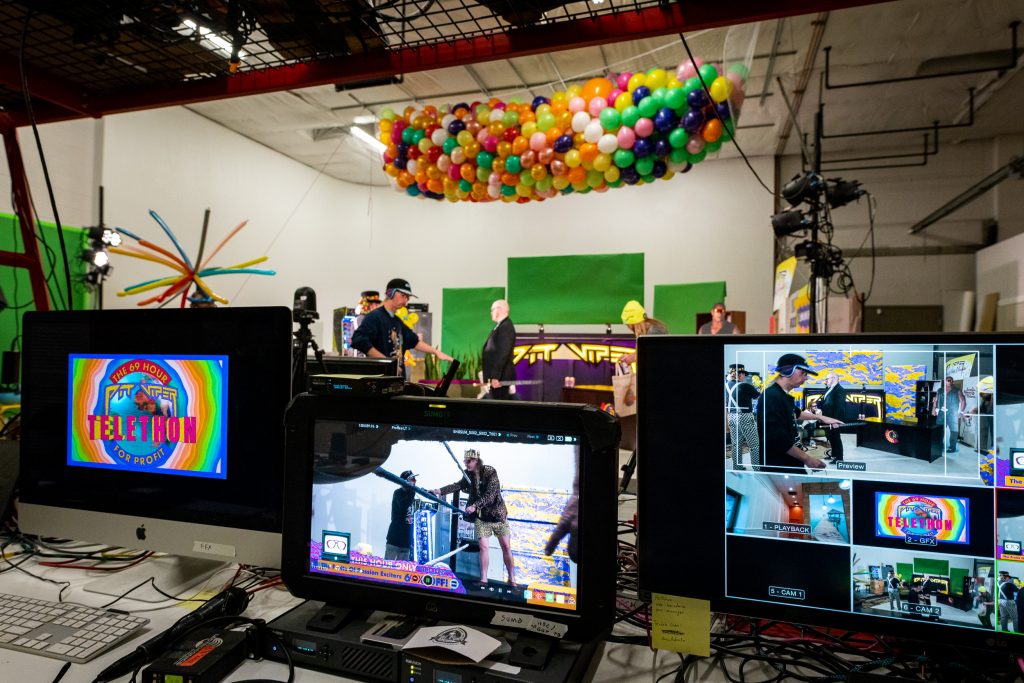 Inman Connect Now
When Inman Connect Now, an annual real estate conference, shifted to online programming during the pandemic, we turned their traditional, in-person conference into a virtual experience, providing a turnkey platform to live stream original content to an audience around the world. Over the last two and a half years, we've produced monthly conferences using a remote integration model from our studio in Salt Lake.
To welcome the new year, Inman's virtual offerings are once again evolving. Instead of monthly virtual conferences, the real estate media company will be launching on-demand content for all subscribers. Under the "Inman Access" umbrella, real estate professionals will be treated to a catalog of videos from industry experts.
National Lacrosse League: Year Two
For our second year as production partners to the National Lacrosse League, we're producing over 50 games this season to ESPN channels. We're thrilled to produce home games for four of the league's teams in the Western conference: the San Diego Seals, Colorado Mammoth, Panther City Lacrosse Club, and the Las Vegas Desert Dogs. With the variety of location bases, we're using a remote production model, which maximizes efficiency with limited staff onsite while we produce the games from our SLC studio.
The season is now in its fifth week, with the San Diego Seals leading the Western division with a 4-1 record, the Colorado Mammoth close behind.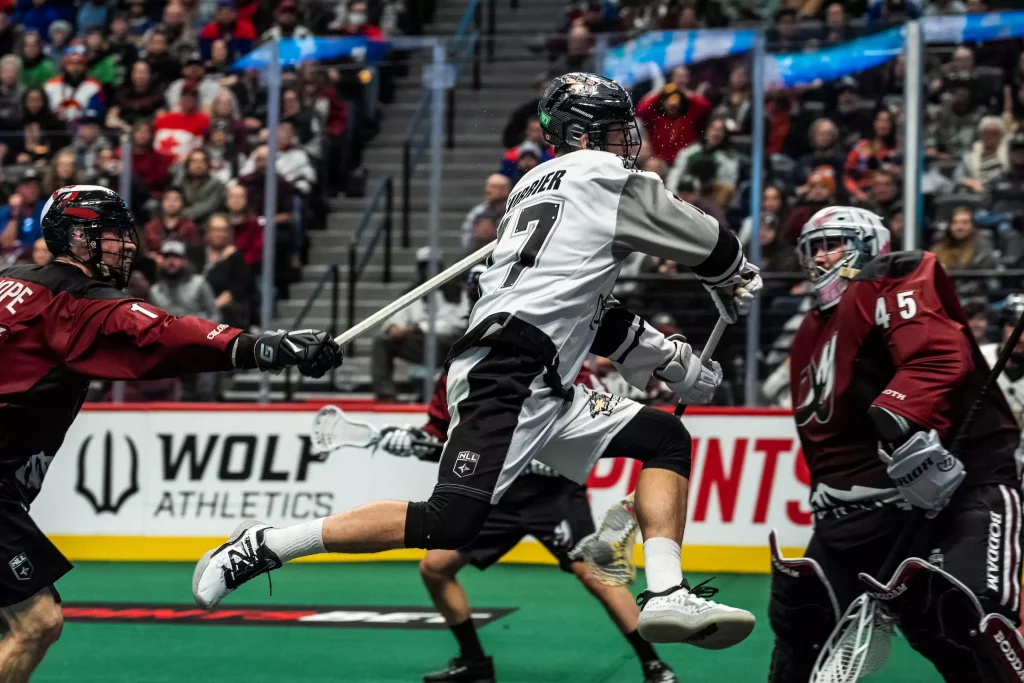 Thanks to all our partners for another great year of events and productions!
Stay tuned to our social channels to see more of what we're up to throughout the year. Find us @dragonflimedia on Instagram, Twitter and LinkedIn