PARK CITY, UT (Aug. 27, 2020) — The best skiers in the world will grace the big screen as Matchstick Productions' Huck Yeah premieres at the Twilight Drive-In at the Utah Olympic Park. Matchstick's 22nd year of ski movie production and subsequent World Tour will take place initially at pop-up custom drive-in movie venues, making this a once in a lifetime experience.
MSP's latest and greatest film will air in a socially-distant, safe environment at the Utah Olympic Park on Fri., Sept. 18 at 7 p.m. and 9 p.m. and Sat., Sept. 19 at 9 p.m. Tickets to all three shows are on sale now at parkcityfilm.org for $40 per car and are expected to sell out.
The first 100 ticket purchases will receive a free limited edition Matchstick Movie Tour Stanley insulated pint at the door. Each moviegoer will also be entered into an exclusive raffle from Matchstick partners Arcteryx, Atomic, The North Face, K2, 10 Barrel Brewing, Alaska Airlines, Stanley and more.
"The original idea for the Drive-In was actually in anticipation of the ski movie releases this Fall as they have been an important pre-season tradition in every ski town across America for generations," says Dragonfli Media Chief Revenue Officer Michael Jaquet, who also was the Founder of FREEZE Magazine, a publication that first partnered with Matchstick co-founders Steve Winter and Murray Wais in 1997. "We've been lucky enough to have great support in the community for the project and it's now our privilege and honor to add my friends at MSP to the lineup."
"We've always had great success with screening our movie in Park City and we have some of our biggest and best turnouts there every year," says MSP co-founder Murray Wais. "With all of the challenges we've faced over the past several months, we feel incredibly lucky to not only be able to screen 'Huck Yeah' but to do it in such a great, COVID-safe venue and with partners that have been integral to MSP's successes over decades."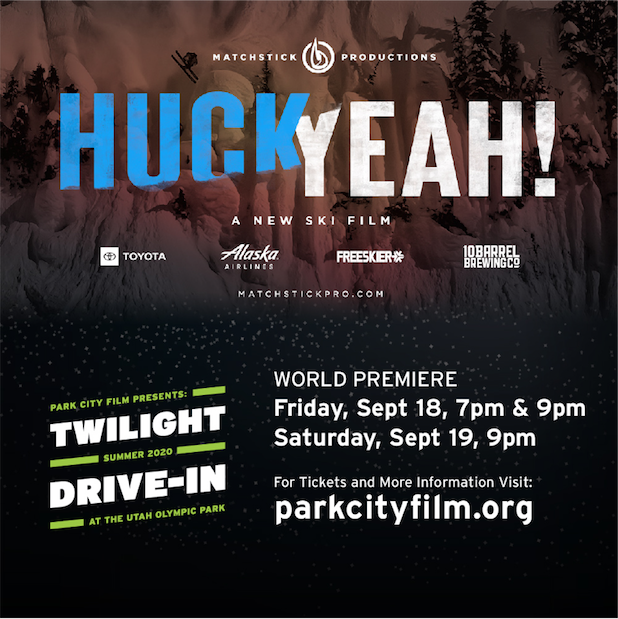 Park City's premiere coincides with premieres the same weekend in Sun Valley, ID; Aspen, CO; Gunnison, CO and Breckenridge, CO as MSP has adjusted their standard tour model due to COVID-19.
This added weekend to the Twilight Drive-In Movie Series at the UOP will be the sixth weekend of films launched in the Park City community through a partnership of Dragonfli Media Technologies, Park City Film and the Utah Olympic Park. More movie titles and shows will be added to the weekend of September 18-20. More details will be available at www.parkcityfilm.org.
The beautiful and secluded Utah Olympic Park (UOP), site of the Bobsled, Luge and Jumping events during the 2002 Winter Olympic Games will serve as the venue with the parking lot converted to a drive-in movie setup. Dragonfli Media, a local marketing and events agency, is putting on the event in partnership with the UOP and Park City Film and will be rolling out a state-of-the-art LED video board for a high-quality viewing experience even before sunset. Sound will be piped into each car via FM dial ensuring an audio experience that can't be matched outdoors.
If any shows do not sell out, a very limited amount will be available at the venue. Moviegoers must remain in or directly adjacent to their cars during the screenings and, in accordance with Summit County Health laws, must wear a mask when outside of their car.
A limited number of free tickets are available for Park City's healthcare, frontline and service industry workers. For more information contact Park City Film Director Katy Wang (katy@parkcityfilm.org).
Watch the Huck Yeah trailer here. Please contact Jeff Berman (jberman@dragonflimedia.com) or Michael Jaquet (mj@dragonflimedia.com) for sponsorship information.
###
Media & General Inquiries Contact:
Eli Davis | edavis@dragonflimedia.com